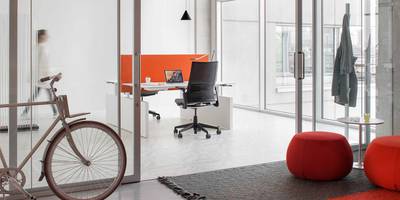 Ahrend Balance fits seamlessly into the rich design tradition of Ahrend. The slenderness of the design, the stable construction and the clever integration of innovative elements and usability make this a classic Ahrend range. Ahrend has created a new standard in the field of workplaces by incorporating our vision of a circular economy and agile working.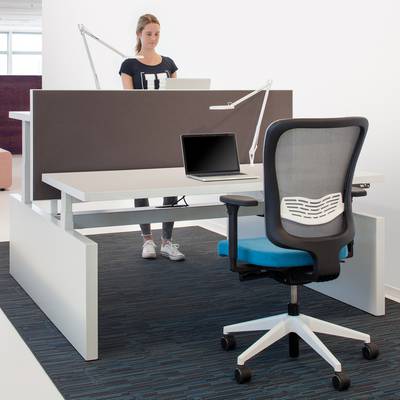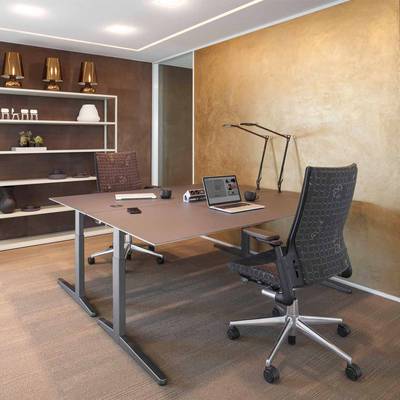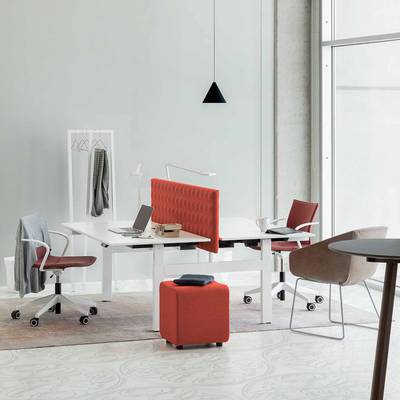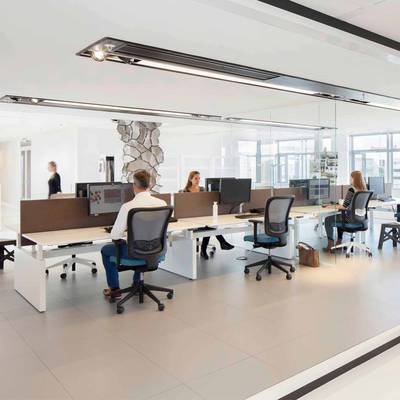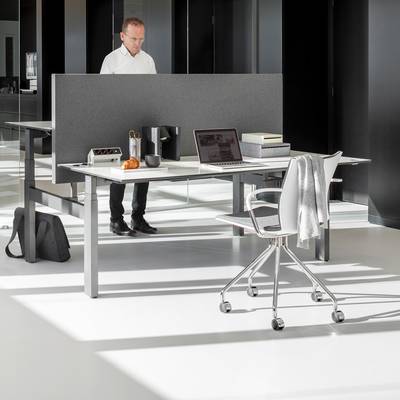 Basic model
Design

Steel frame and legs with aluminium leg coupling
Powder coated legs in C-shape, L-shape, duo and slab versions
Patented coupling mechanisms of legs and tabletops for fully adjustable benches
Available in 11 different coloured lacquers and four trend coulours
18 mm Monotop or 12 mm Ciranol tabletops
Patented quick fix system in the tabletop
Timeless sustainable design
Slender design and stable construction
Cradle to Cradle Silver CertifiedTM
Monotop tabletop with laser edge. Standard with non-toxic lacquers
Innovative usability
More than 1 million configurations available within three simple steps
Easy to (dis)assemble tabletop due to patented 'quick fix' system
Sophisticated cable management
Healthy and agile working
Complies with and exceeds all applicable ergonomic standards
Modular and adjustable to all working methods; from collaborative to concentrated
Provides solutions for working in both sitting and standing positions which stimulates healthy, creative and productive working
Marck Haans
Marck Haans was born in 1962. From 1982 to 1988 he studied at the Royal Academy of Art and Design in Den Bosch. Immediately after that, he followed a course at the Design Academy in Eindhoven.
In 1989 he started as a designer at Brabantia where he designed various products for the consumer market. In 1994 he switched to contract furniture and various other projects, he has since 2010 been employed by Ahrend production St. Oedenrode.
ERGONOMICS
Fixed height at 74 cm
Height adjustable (62-88 cm) with foldaway crank handle or pin adjustment
Height adjustable (62-88 cm sit-sit) with a foldaway crank
Electrically height adjustable (62-88 cm sit-sit and 65-130 cm sit-stand) using a switch on top of or underneath the tabletop
Variety in tabletop shapes and sizes
Two-legged tabletop depths: 80, 90 and 100 cm
Conference tables with tabletop power
Sliding tabletop
Sophisticated cable management attached to frame
TECHNICAL DETAILS
Adjustable section
European norm EN 527-1 and NPR 1813: 65-85 cm and 65-130 cm (sit-stand)
Ahrend Balance: 62-88 cm and 65-130 cm (sit-stand)
Ergonomic norm
NEN-EN 527-1,2 and 3
NPR 1813
CE verklaring
GS Zeichen
Ansi Bifma M7.1
OPTIONS
With anti-collision function avoiding damage to the table or user
Acoustic panels
Tabletop power
Ahrend PuK wireless smartphone charger
Clean desk drawer
Flos Kelvin led lamp with tabletop access
CPU- holders and (dynamic) monitor arms
Matching storage units
Need more information?
Where to go next?