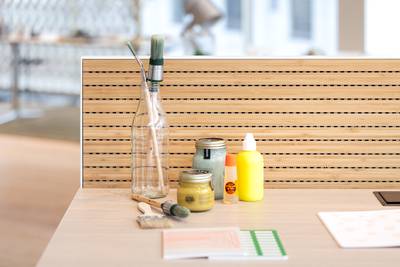 The double sided Ahrend S50 front panels help create an aesthetically pleasing silent room. The panels provide separate workstations, in addition, the panels also improve the privacy of workers and provide a 'homey' atmosphere.
Aside from visual privacy and acoustic experience, the S50 acoustic panels greatly assist in reducing echoing sounds and improve the acoustic environment enabling employees to be more productive.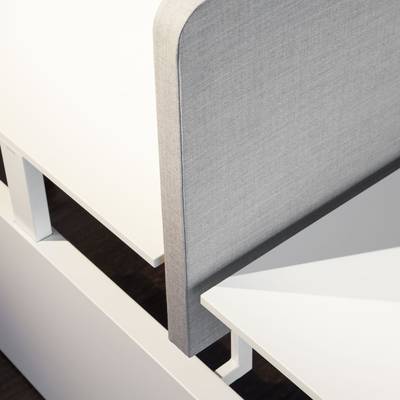 Creates visual privacy in the workplace
Acoustic version that reduces disruptive background noises
Provides a quiet, homey and attractive appearance
Applicable with the Ahrend 500, Team_Up, Four_Two, Portal and Mehes.
Double sided panels
Easy to install
Available in many classic and modern fabric designs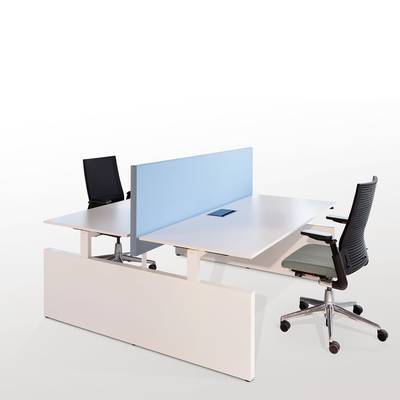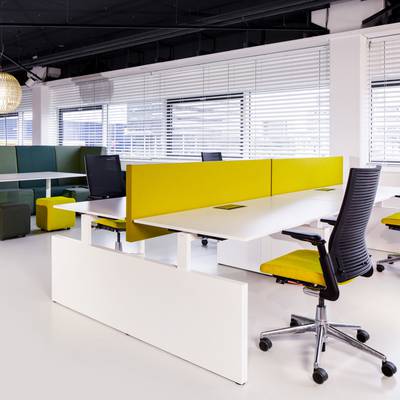 Lieke van Gool
Lieke van Gool was born in 1977. After completing secondary school (Dutch VWO level: pre-university education) she was admitted to the Design Academy in Eindhoven, where she graduated in 2001, specialising in the field of "Man and Activity". She has been employed as a designer at Ahrend Produktiebedrijf Sint-Oedenrode bv since 2004.
BASIC MODEL
Applicable to solitary and duo workplaces
Chipboard core, lined with Lucius fabric
Thickness of 50 mm provided with filling on both sides
Five widths: 120, 140, 160, 180, and 200 cm
Stature top screen 108 or 118 cm.
Acoustic experience
Tested for acoustic value in accordance with ISO 354 (2003)
The panel extends about 30 cm above the workshop
TECHNICAL DETAILS
No framework, but 25 mm thick panels
Fastening methods: under the worktop, to the frame, to the leg or beam
Framework includes polyethylene or open cell foam Flamex
Alternative core materials available to increase acoustic properties
αw value of the acoustic version >0,8 measured at 2kHz
OPTIONS
Includes stitching type tensioning seam
Acoustic version with open cell foam Flamex
Available in various screen fabrics as Event Screen Twist Melange, Moon and Soul
Radius of 50 mm as Ahrend Loungescape at the corners
Deviating stitching, piping or stitching
Fully recyclable
Need more information?
Where to go next?