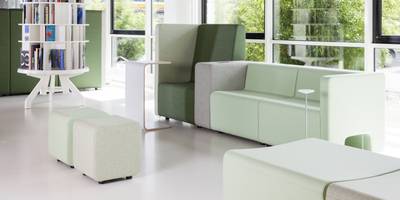 A complete solution for Smarter Working, whether you are using the telephone, sending an email, meeting clients, consulting or concentrating. Each of the elements can be upholstered separately and can be used as an acoustic partition. The range is not only perfect for small spaces, but works equally well in larger areas.
Versatile, offering facilities for rapid switching between communication and concentration.
Playful structure by variation in wide and narrow seating elements and various back heights, where all the elements are seperate and can therefore be upholstered differently.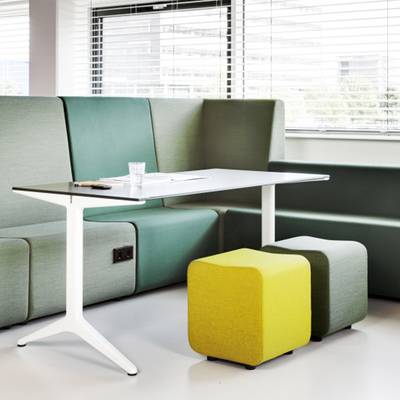 Basten Leijh
Basten Leijh was born in 1975. After following the direction 'Man and Mobility' at the Design Academy Eindhoven his graduation project, a city bike with a detachable handlebar that function as a U-shaped lock, was adopted by world's largest bicycle manufacturer Giant in 2002.
After several years of experience as a product designer and interior designer, he started his own design studio in 2005, Bleijh Concept & Design. The studio has grown into a multidisciplinary design agency and is well known for its innovative products and concepts. Including office chairs, adjustable desks, bicycles, packaging, waste disposal products and even nautical concepts came from his studio. Basten Leijh's work is conceptual, but has also a highly functional character and is exhibited worldwide. He believes in total design solutions where the context and environment are as important as the product itself: "the product in its full experience."Basten Leijh stands for integration of design in an early stage of the strategy of a company. This is why he often sits at the table at an early stage in the development of future plans or new initiatives. His motto: "Authentic, functional products that give you a smile... products that makes the world happy".
BASIC MODEL
Seating elements in two widths - with and without back - with and without (arm)rest(s)
Backrest in 4 heights
Armrests in 4 heights and 3 widths, may or may not have openings
Width seating elements: 600, 800 mm
TECHNICAL DETAILS
Width (arm)rests: 100, 200, 300 mm (combination is also possible)
Height backrest and (arm)rests: 740, 1180, 1430,1600 mm
Seating height: 450 mm
Seating depth: 750 mm
Ottoman: 420x400x400 mm (HxWxD)
Table: 500x430x430 mm (HxWxD)
OPTIONS
Seating elements and tuffet (or 'pouffe') in fabric
Backrest in fabric
(Arm)rests in fabric
Table in wood
Need more information?
Where to go next?