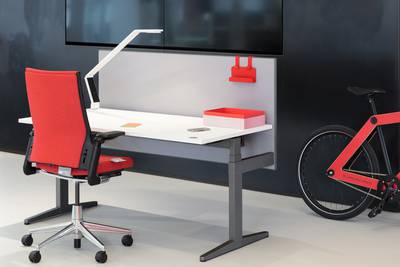 Sitting for long periods of time is made easy with the Ahrend 2020. The Ahrend 2020 visitor chairs and conference chairs are truly comfortable. Now you can enjoy long meetings in total comfort.
The best way to assess the comfort of the Ahrend 2020 is to try it for yourself. The high degree of comfort gives the chair a positive feel when sitting for long periods of time. The movement mechanism makes it possible to be active whilst sitting or leaning back. Perfect for long running meetings, or if you want to simply relax.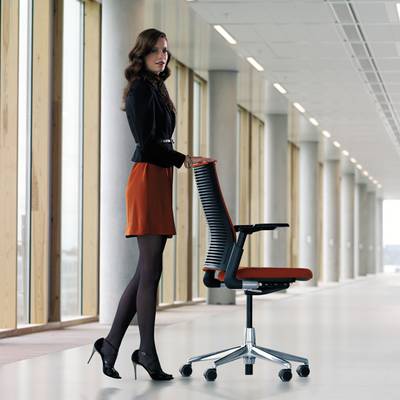 Recognisable Ahrend quality with a concealed operating mechanism and intuitive operation
Easily adjustable to suit anyone and any activity for the perfect personalised seat, using the unique Comfor-slide and 3D armrests
Complies with and easily exceeds all national and international ergonomic standards, such as the European EN-1335 standard and the Dutch NPR 1813 (second column)
Astonishingly comfortable, thanks to the patented synchro-mechanism, solidseat and comfortzones
All functions can be operated from a seated position using intuitively placed controls and clear pictograms
Concise instructions integrated into seat and seating
Instructions available online
Ahrend is the only producer of Cradle to Cradle (C2C) chairsin the Benelux region. Ahrend 2020 has been awarded a C2C certificate
All the materials used are completely recyclable, includingthe revolutionary recycling of foam parts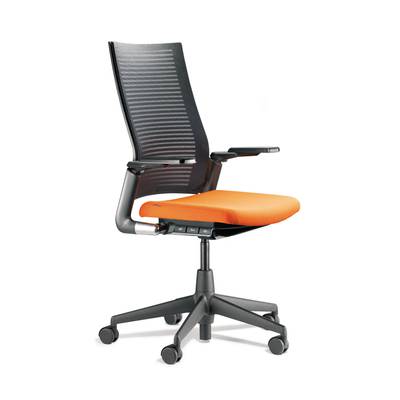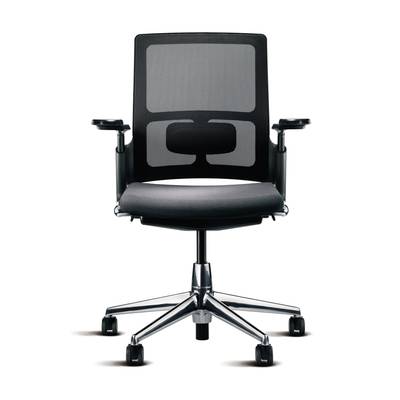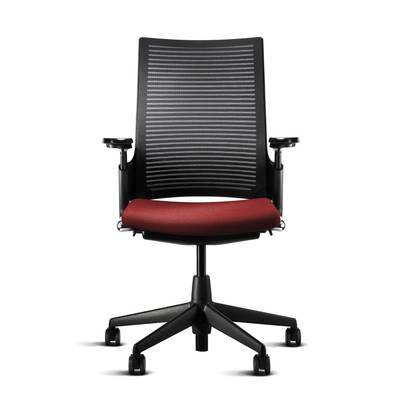 Paul Brooks
Paul Brooks studied product and furniture design at Ravensboune College of Design. He went on to take an MA in Industrial Design at the Royal College of Art in London. After graduating in 1983 he worked in London at the design studio of Robert Heritage CBE (Professor - School of Furniture RCA) working on a variety of furniture and lighting projects. Later at the studio of Steven Hall he designed lighting systems taken by Phillips and Lita (France) and products for Habitat (UK).
BASIC MODEL
Patented synchro mechanism with comfort slide for a personally adjustable, comfortable and ergonomic movement
Netweave backrest with lumbar support for extra comfort
Technology made transparent by design for maximum simplicity
All control buttons within easy reach and adjustable from the sitting position
User instructions integrated into the chair seat
Sitting posture instructions available online
Meets Dutch Practice Guideline NPR 1813 Column 2, making it suitable for more than 95% of the Dutch working population
Matching visitor chair with either a sled frame or four legs
Developed as part of the Ahrend Next Life range: Re_fresh, Re_fit and Re_use
Designed for carbon-neutral production by 2020
TECHNICAL DETAILS
Simple adjustment of seat depth, height and tilt
Adjustable lumbar rest for optimal support
Chair back can be locked in various positions
3D armrests with intuitive height, width and depth adjustment – with no buttons or levers
OPTIONS
Extraverta backrest combines a bright and timeless appearance with extra flexibility and comfort
Patented Ergomax lumbar support maximises comfort with adjustable levels of pressure and freedom of spinal movement
Cross base made from secondary aluminium alloys, which have a high recycling value
Polished aluminium frame and cross base for an added luxurious appearance
Infinite fabric and colour options for seat upholstery
Also available in a completely upholstered version
Adjustable head support
Nameplate holder
Workchair
Need more information?
Where to go next?